Permashield® Roller Shutters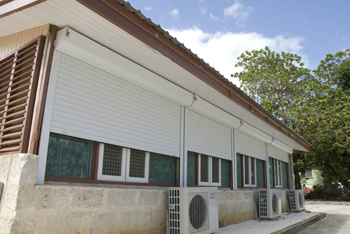 Permashield® Roller Shutters are affixed above structural openings in homes and businesses to safeguard your assets from severe winds and flying debris with a retractable shield. An aluminium enclosure, consisting of a 2-piece hood affixed to cast aluminum end-caps, houses the shield. The shield is made of a series of interlocking extruded aluminium slats, which roll around an axel and traverse the opening, confined by a pair of extruded aluminium guides.
Roller Shutters are ideally suited to second and upper story openings that cannot be easily accessed from outside. They are an effective defense against acts of vandalism and may be used to provide shading, reducing glare and minimizing fading of fabrics and furnishings.
We offer a selection of slat profiles and options enabling us to strike a balance between your budget, security needs and hurricane protection requirements.
Permashield® Roller Shutters
Economy Roller Shutters are constructed using a 40mm Extruded Aluminium Slat Profile with good weathering resistance and strength.
Premium Roller Shutters are constructed using a 55mm Single Reinforced Extruded Aluminium Slat Profile for rigidity and strength.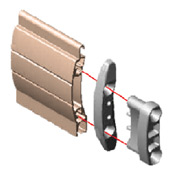 Premium Plus Roller Shutters are constructed using a Double Reinforced 55mm Extruded Aluminium Slat Profile for added rigidity and strength. The shutter's primary feature is its End Retention System (ERS) that offers superior wind-load resistance; slat locks are affixed to slat ends and hook securely into a Slat Lock Chamber in the guide rails to restrain the slats from being pulled out of the side rails in hurricane conditions.
Roller Shutter Options
Motors & Controls: For your convenience, shutter operation may be motorized and several options are available including: wired & wireless switches, key switches, digital key pads, remote controls and garage door accessories. Shutter motors are supplied with a manual override to allow hand operation in the event of a power failure. Standard motors (without overrides) are available in cases where a standby power source is available.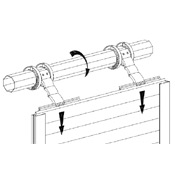 Security Reel Locks are installed at intervals along the axel in the shutter enclosure and connect to the top slat to create a form of spring lock which engages automatically when the shutter is in the closed position. This prevents the shutter from being pried upwards.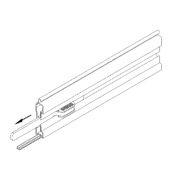 Security Sliding Latches are installed at both sides of the bottom slat in a special groove and are operated by hand and secured through the guides into the wall.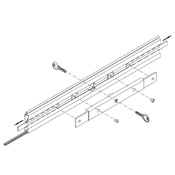 Security Key Locks are installed in the bottom slat such that a key extends an aluminium bar from either side of the bottom slat through the guides and into the wall. These can be operated from both inside and the outside.