Permashield® Bahama Shutters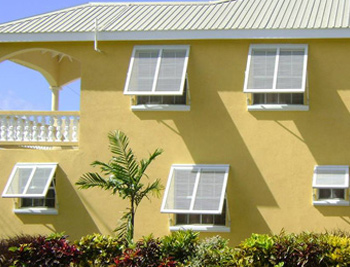 Permashield® Bahama Shutters provide durable hurricane protection with a tropical look and feel. These shutters hinge from the top of the opening and have telescopic arms to adjust the angle of the shutter, controlling shading and privacy.
The Eco-benefit of this product is the level of permanent shade that it provides for the opening, reducing internal heating from UV rays while allowing breeze to flow through.
Each shutter is custom-fabricated to your specifications and a durable powder coating finish is applied for superior weather resistance; a wide range of colours is possible.