PermaFlow® Seamless† Gutters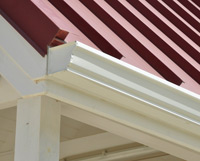 PermaFlow® Seamless† Gutters, also referred to as "Continuous Rain Guttering", are continuous gutter runs spanning from eave corner to corner on the roof. The gutter profile is an attractive 6 inch "K-Style" or Ogee shape and is fastened to the eave structure with hangers that clip into the top of the gutter, appearing hidden when viewed from below. Permaflow Gutters are typically formed on the work site in order to match the measurements needed for the particular job; from 12 inches to over one hundred feet††.
† Adjacent runs are joined with a Box Mitre or Strip Mitre component.
†† It is necessary to install gutters with a slope to allow water to drain adequately. The resulting fall in the gutter will be more apparent in longer runs.
Reports indicate that seventy-five percent of all guttering installed throughout the US is continuous. The product's popularity is easily understood because of the following benefits: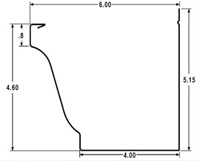 Eliminates unsightly seams
Reduces the possibility of leaks
Is available in two Finishes:

(a) 0.7mm Seamless Aluminum with a white baked-on enamel finish.
(b) 0.60mm Copper

Utilises Hidden Hangers/Brackets
Is visually appealing and enhances the beauty of the home
Protects the building & landscaping by redirecting water away from the building's
foundation and reducing surface erosion
Can be formed on the job site for exact measurements
Installations can be completed in one day for most jobs
Permaflow® Seamless Gutter Components
PermaflowTM Aluminium K-Style Seamless Gutter 4327380ALPW
2"x3" Downpipe – 472DPIPE2X3PW
3"x4" Downpipe – 472DPIPE3X4PW
Inside Box Mitre
472BXMITREINPW
Outside Box Mitre
472BXMITREOUTPW
Inside Strip Mitre
472SMITREINPW
Outside Strip Mitre
472SMITREOUTPW
Inside Bay Mitre
472BSMITREINPW
Outside Bay Mitre
472BSMITREOUTPW
2"x3" Elbow – Type A – 472ELBOW2X3APW
3"x4" Elbow – Type A – 472ELBOW3X4APW
2"x3" Elbow – Type B – 472ELBOW2X3BPW
3"x4" Elbow – Type B – 472ELBOW3X4BPW
2"x3" Offset – 472OSET2X3/5PW
3"x4" Offset – 472OSET3X4/3PW
2"x3" Rectangular Outlet – 472OUTLET2X3
3"x4" Rectangular Outlet – 472OUTLET3X4
End Cap – Right
472ENDCAPRPW
End Cap – Left
472ENDCAPLPW
Gutter Guard
472GUTGUARD
Round Outlet 3"
472OUTLETROUND3
Hidden Hanger / Speed Screw
472HANGERA
Hidden Hanger
472HANGERB
Rivets
32RIVETPW
Gutter Wedge Universal T
472GUTWEDGEUT
Gutter Wedge 5"
472GUTWEDGE5
Pipe Clip 3×4
472PCLIP3X4PW
Pipe Band
472PIPEBANDPW
PVC Flush Downspout Adapter
472ADAPTER2X3X3
PVC Flush Downspout Adapter
472ADAPTER3X4X3
PVC Flush Downspout Adapter
472ADAPTER3X4X4
PVC Flush Downspout Adapter
472ADAPTER2X3X4
Bostic Chem-Calk
915432GUTSEAL